reits and interest rates
REITs And Interest Rates: How To Reduce Risk
Apr. 17, 2017 2:57 PM
The main fear of REIT investors today is the risk of rising interest rates.
While I believe that these fears are overblown, it is clear that higher interest rates can have a negative impact on REITs.
Not all REITs are however the same and their sensitivity to interest rates may greatly vary.
To reduce the interest rate sensitivity of your REIT portfolio, I would recommend investing in short duration REITs; International REITs and Mortgage REITs.
Not all REITs are created equal. While some may perform best during times of decreasing interest rates, others may also benefit from rising rates. This is an important issue to consider especially today as the market seems to fear rising interest rates more than ever before. It is generally believed that interest rates have a negative impact on REITs as it increases their cost of capital and may lead to lower underlying real estate values.
While this is true, and should be taken seriously when allocating into REITs, there exists many ways to mitigate the risk of rising interest rates. I allocate a great portion of my portfolio into REITs and have put lots of efforts into structuring my portfolio in a way that can sustain higher rates, hopefully without suffering any major capital losses.
The four main risk mitigating approaches that I implement are the following:
I diversify my REIT portfolio by geography and currency.
I combine short duration REITs with long duration REITs.
I look for commercial Mortgage REITs that may benefit from higher spreads in a rising interest rate environment.
I favor REITs with fixed rate debt and long debt maturities
This is all very basic and easy to do, yet most ignore these steps. Risk management remains widely underrated today, especially among individual investors, and I hope to demonstrate some of its benefits in this article.
Invest in International REITs
The first mistake that most REIT investors make is to only invest in their own domestic country. The home-bias is very strong among US REIT investors and may increase risk greatly. This is one of the main differentiating factors of my approach to REIT investing. I follow a more global approach in order to mitigate my exposure to any macro event of a single country or even continent. ´
Today my portfolio is composed of 47% US REITs, 43.9% European REITs and 9.1% Asia-Pacific.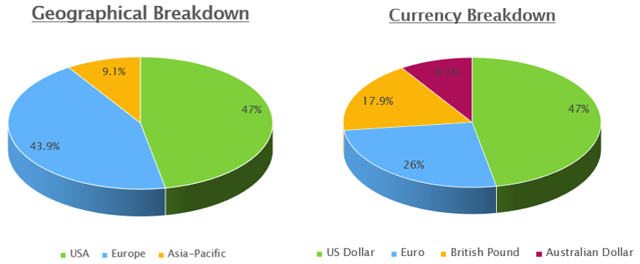 This international exposure also leads to currency diversification which may be particularly valuable in times of rising interest rates. The US fed has hiked interest rates several times in the last years and this has become the primary fear of most REIT investors. Being allocated only 47% in US REITs, my exposure to the risk of rising US interest rates is limited. While there may be a clear trend toward higher rates in the US; this is much less certain in Europe where interest rates remain exceptionally low and spreads particularly attractive. The macro risk is hence well-diversified compared to a US-only REIT portfolio.
Combine Short Duration REITs with Long Duration REITs
The weighted average remaining lease term (WALT) has a great influence on the sensitivity of a given REIT to changes in interest rates. A long duration REIT is one that has a long WALT. These most often include office REITs, net lease REITs and industrial REITs. In my current portfolio, I hold for instance Gramercy Property Trust (NYSE:GPT) which has an 8 year WALT and W.P Carey (NYSE:WPC) with a close to 10 year WALT.
On the other hand, short duration REITs have much shorter WALTs and include hotel, apartment and self-storage REITs. Good examples in my portfolio would include Hersha (NYSE:HT) and Big Yellow (OTC:BYLOF) for instance.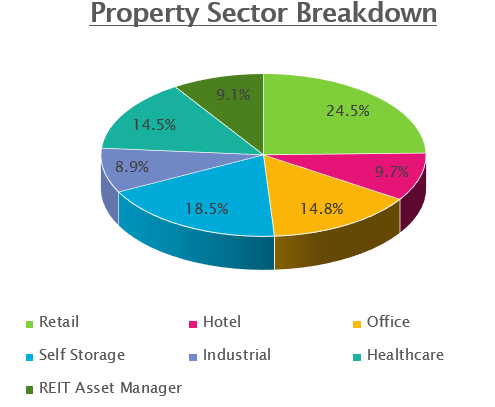 It is important to include both in one's portfolio because they tend to react very different to macro events including interest rate movements. The long duration REITs have long leases and are hence better protected in case of a downturn. However, during expansionary times, they may not be able to increase rents as fast as short duration REITs. This is why in times of rising interest rates; hotel REITs tend to outperform as they are able to adjust their ADRs (average daily rate) immediately.
My portfolio is today about 30% short duration REIT (hotel + self-storage) and 70% long duration REIT. Given my assessment of the global economy, I believe this composition to be appropriate.
Include commercial Mortgage REITs into your Portfolio
Mix a few mortgage REITs with your regular equity REITs. This can help to mitigate interest rate exposure as well because certain mortgage REITs may actually benefit from rising short-term rates. Apollo Commercial (NYSE:ARI) for instance recently noted in a presentation that each rate bump would positively impact its bottom line because it borrows fixed rate debt but lends variable rate.
Since interest rate hikes may impact the fundamentals of Mortgage REITs differently than the ones from Equity REITs, it is crucial to gain exposure to both of them; especially if you fear rate increases.
Favor REITs with Mostly Fixed Rate Debt and Long Debt Maturities
This is quite obvious and should not need much explanation. If a REIT has a high exposure to variable rate debt and short maturities, it is clear that it will suffer more from interest rate increase than another one with a high percentage of fixed rate debt and long maturities.
Many argue that because interest rates may be rising, investors should sell off their REIT holdings and stay far away from this asset class until rates stabilize.
I disagree with this assessment and believe that REITs deserve a permanent allocation in any portfolio. Real estate has proven to be an attractive asset class to hold throughout cycles for the long run. It reduces the risk profile of a traditional portfolio composed of stocks and bonds and may even increase your risk-adjusted returns.
I remain LONG a multitude of different REITs. I do not plan on selling based on some macro risk that may not even materialize. Studies have proven that it is very difficult if not impossible to predict interest rate movements so why make investment decisions based on such forecasts?
Warren Buffet has anticipated interest rates to return to normal historical levels now for many years; and has had to admit that he was wrong time after time. If he can't, can any one of us on Seeking Alpha realistically predict interest rates to continue to increase? I doubt so.
If you hold quality names including Omega (NYSE:OHI), Public Storage (NYSE:PSA) or STAG (NYSE:STAG), you should do fine over time and earn increasing dividends despite temporarily higher volatility. In fact, even if you bought relatively expensive REITs including Realty Income (NYSE:O), National Retail Properties (NYSE:NNN) or Agree Realty (ADR), I believe that you would have good chances of outperforming the broad equity market going forward. FFO multiples remain below 20 which is not excessive compared to other broad equity indexes and the track records have been phenomenal.
What I suggest is to not sell-off, but to prepare for any possible scenario. Be ready for increasing interests by structuring your REIT portfolio correctly, but don't count on it. Regardless of interest rate movements, over time, I anticipate commercial real estate to continue to produce great risk-adjusted returns in addition to providing high diversification benefits.
If you enjoyed this article, please scroll up and click on the "Follow" button next to my name to not miss my future articles on future REIT opportunities.
Disclosure: This article is for informational purposes only. It is not a recommendation to buy or sell any security and is strictly the opinion of the writer. Readers are expected to conduct their own due diligence or seek advice from a qualified professional.
Disclosure: I am/we are long HT, WPG, OHI, WPC, MPW, GPT, BTLCY, BYLOF, WRDEF, DIC:GR, APD:AU.
I wrote this article myself, and it expresses my own opinions. I am not receiving compensation for it (other than from Seeking Alpha). I have no business relationship with any company whose stock is mentioned in this article.
The Impact Of Interest Rates On Real Estate Investment Trusts
A real estate investment trust (REIT) must pay out at least 90% of its taxable profit as a dividend to shareholders, which makes REITs relatively high-yield instruments. In fact, from the perspective of total return - dividends plus price appreciation - REITs behave like a typical small-cap stock. But unlike a small-cap stock, most of the expected return of an REIT comes not from price appreciation but from dividends. In fact, on average, about two-thirds of an REIT's return comes from dividends. One downside of this for investors is that as a high-yield investment, an REIT can be expected to exhibit sensitivity to interest rate changes. In this article, we explore this relationship. (For background reading, see What Are REITs?)
Relatively High Yields
You can see that yields vary by sector. As of September 2004, the median yield among all REITs (the bar furthest on the right) was about 5.5%, but the yields were dispersed: the 25% yield (the bottom of the blue portion) was about 4% and the 75% yield was more than 6.5% (the top of the green portion). This means only half of the REIT yields were between 4% and 6.5% while the other half of REIT yields was outside this range. At the same time, the yield on long-term U.S. government treasuries was less than 5%. This suggests that if your goal is income, you might do better with an REIT, but you would assume additional risk. The
REIT Total Returns Compared to Interest Rates
Conventional wisdom says that higher rates are generally bad for REITs. The most popular REIT index is the NAREIT Equity REIT Index. Figure 2 compares the value of the NAREIT Index to the 10-year Treasury bond (T-bond) from the beginning of 1972 to almost the end of 2004:
Unfortunately, we can probably assume that past returns such as these cannot be replicated into the future over the long run for the industry as a whole. There will be exceptions in the short-term.
REIT Price Returns Compared to Interest Rates
Second, the medium-term interest rate is low by historical standards. It is entirely likely that this interest rate will edge upward. If the 15 years of inverse correlation between rates and REIT prices shown above continued, then REIT prices would suffer.
The 15-year period examined above shows there is a strong inverse relationship between REIT prices and interest rates. On average, it would be safe to assume that interest rate increases are likely to be met by REIT price declines. Of course, reaction by sectors will vary. For example, some argue that in the case of residential and office REITs rising interest rates would drive up REIT prices because increasing rates correspond to economic growth and more demand. But you will need to be selective in such an environment. The good news about REITs is that high yields are a sort of hedge against price declines: if you buy a high-yield REIT, any price decline will be mitigated by high income in the meantime.
Rising interest rates and expectations of future changes in monetary policy have at times impacted the share prices of stock exchange-listed equity REITs. However, increases in interest rates often are driven by economic growth that may support the growth of REIT earnings and dividends in the future. Research shows that REITs have often outperformed the S&P 500 in periods of rising interest rates.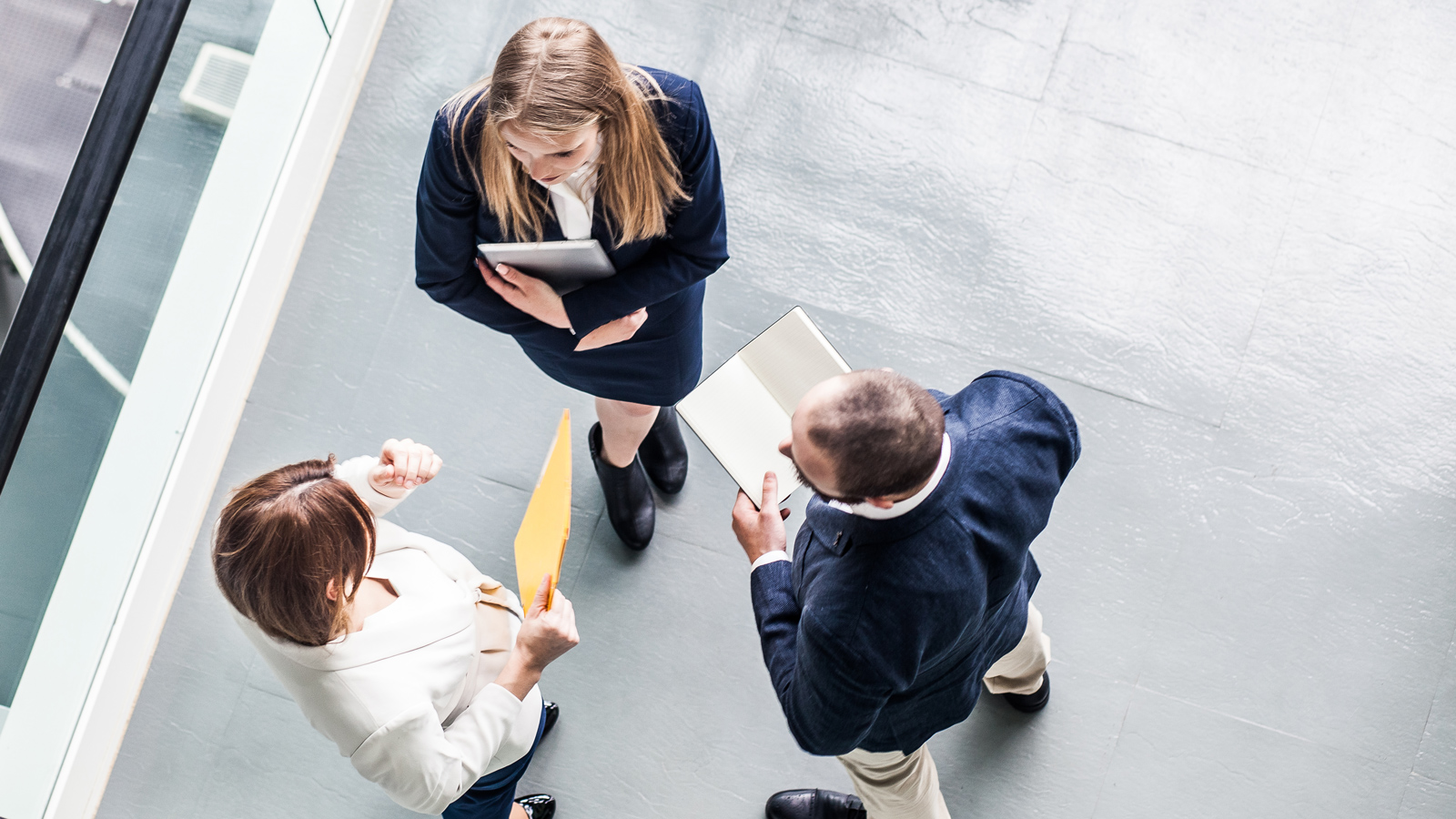 Investor Perceptions vs. Reality
Asset prices often decline as the immediate response to a rise in interest rates because investors perceive higher interest rates will reduce the present value of future cash flows from investments. If future cash flows are not expected to rise, such as income from bonds, then rising interest rates would have a clear negative impact on their asset values.
Rising interest rates, however, often reflect economic growth that can boost REIT earnings and, ultimately, share prices. History shows that REIT share prices have often increased during periods like the present one when the Federal Reserve shifts from a stimulative policy stance to a neutral position.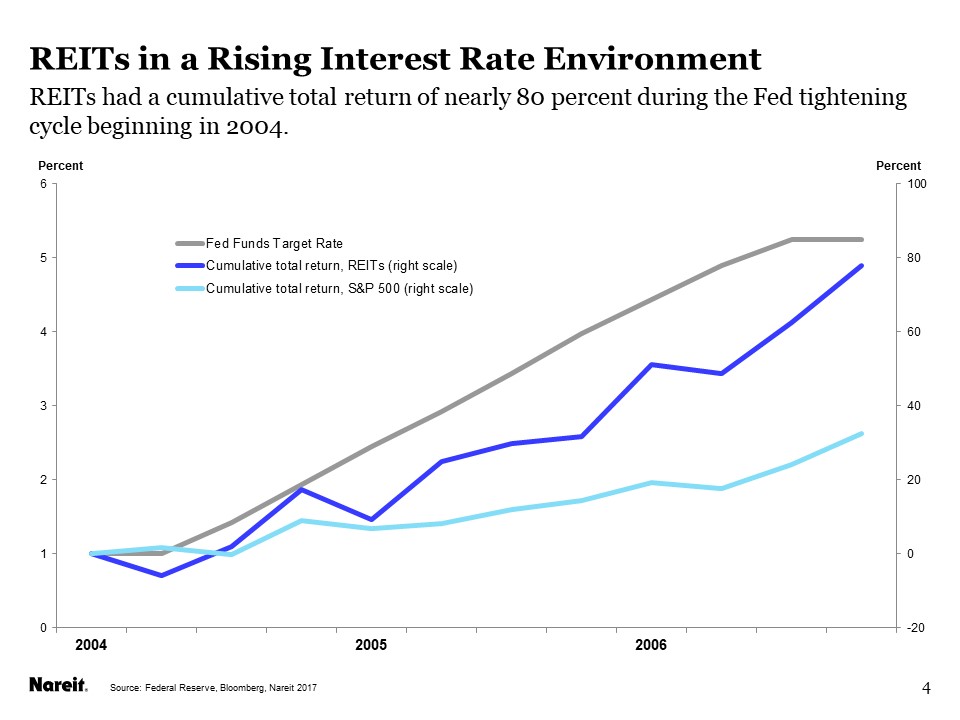 REIT Earnings and Dividends are Growing
As it has in the past, today's economic growth is helping to drive earnings growth for REITs. In 2017's fourth quarter, total REIT industry net operating income increased 9.8 percent from the same quarter in the prior year, according to the Nareit T-Tracker . And the increase in earnings translated into higher dividends for REIT investors. In the fourth quarter of 2017, total dividends paid by equity and mREITs increased 4.5 percent over the prior quarter and 3 percent over 2016's fourth quarter to $13.7 billion.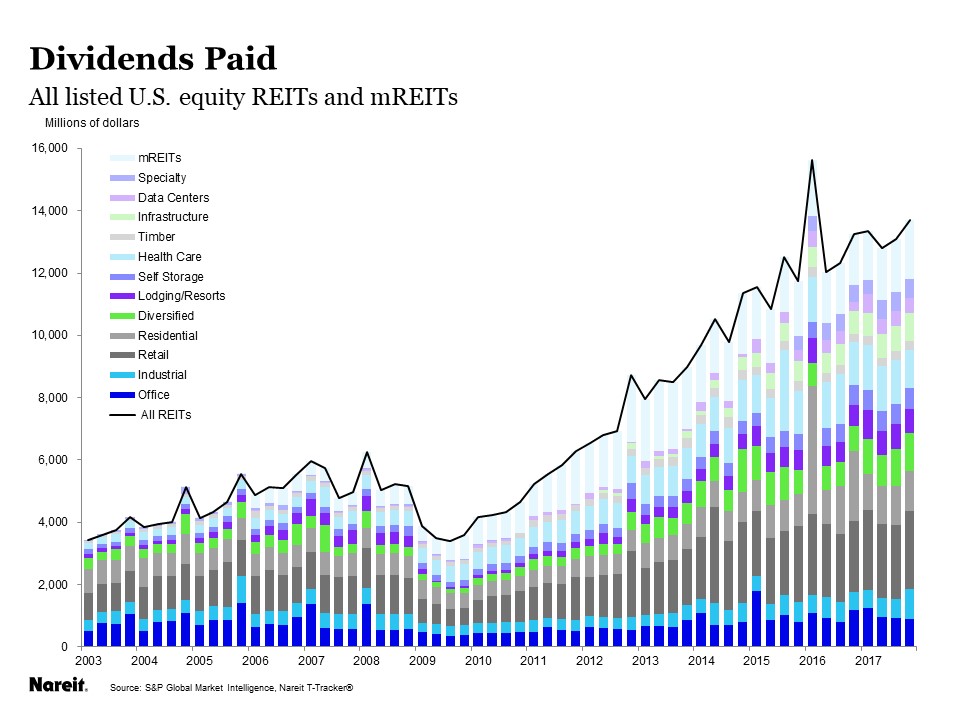 REITs are Prepared to Perform Despite Rising Rates
REITs also have fortified their balance sheets to position themselves to continue delivering earnings growth despite rising interest rates. The REIT industry is less leveraged than at any point in the past 20 years. The ratio of debt-to-book assets declined 95 basis points in 2017. The market leverage ratio, which substitutes market cap for the book value of equity, is near the record low reached in 2016.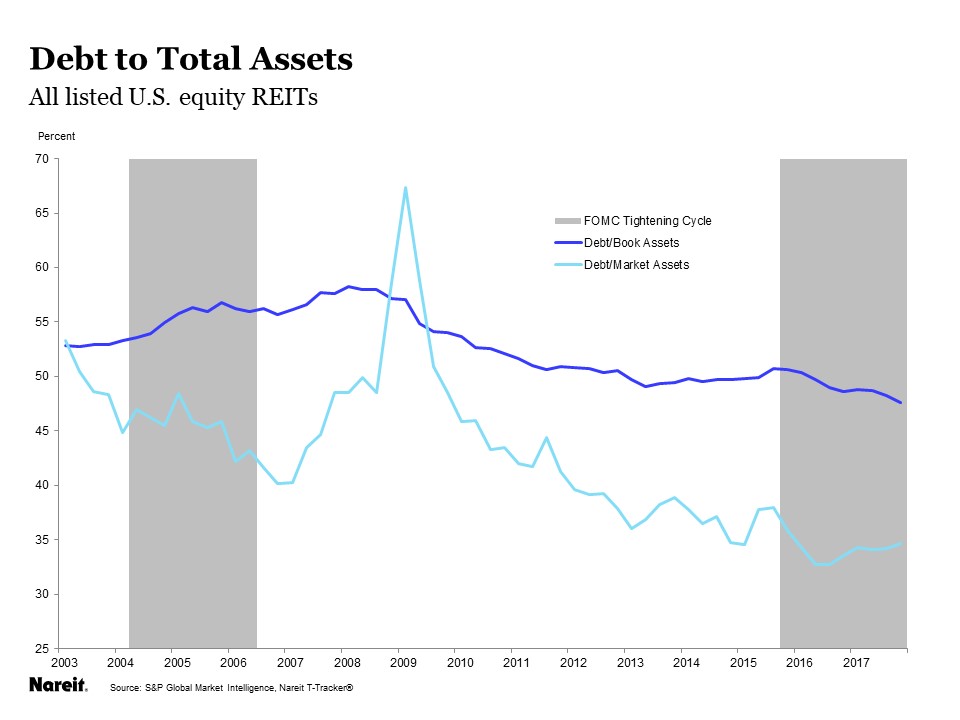 The decline in leverage means interest expense takes a smaller bite out of REITs' earnings. Interest expense was 22.3 percent of net operating income in the fourth quarter, down from 38 percent prior to the financial crisis.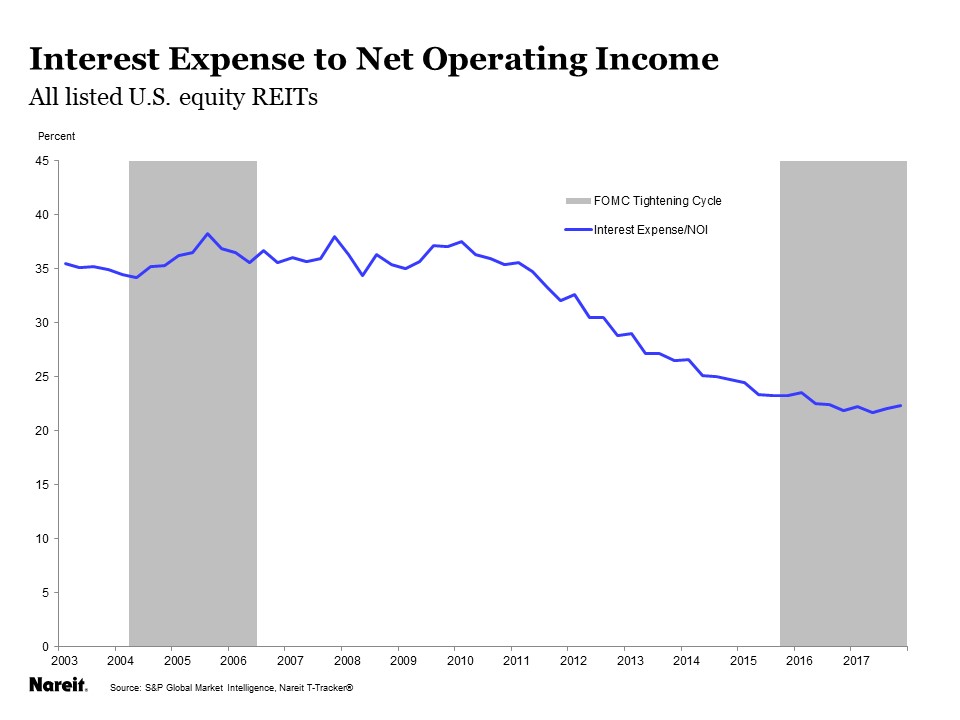 Interest expenses also are not likely to rise much as rates move higher, because nearly all the borrowings of REITs are fixed-rate debt. And, REITs have extended the average maturity of their debt to 75 months, locking in these low interest rates until well into the next decade.
Higher Interest Rates Impact REITs: What Dividend Investors Need to Know
Many dividend investors wonder how higher interest rates will impact REITs, and for good reason.
Over the past few years, interest rates have fallen to their lowest levels in recorded history.
This has created a challenging environment for income investors who previously enjoyed healthy, low-risk returns from money market funds, CDs, and Treasury bonds.
In fact, since the darkest days of the financial crisis, many yield-starved investors have been forced to search elsewhere for their income needs, including bond alternatives such as real estate investment trusts (REITs).
As a result, the entire real estate industry outperformed the market even during one of the longest and strongest bull markets in history.
Since March 2009, the Vanguard REIT Index (VNQ) returned roughly 400%, outpacing the S&P 500's total return of about 300%.
However, now that interest rates are finally on the rise (the chart above shows the 10-year Treasury yield over the last year), many dividend investors are understandably concerned about whether or not REITs are still a good sector to own.
Let's take a look at the long-term history of how REITs respond to varying interest rate environments to see which ones, if any, are most likely to continue doing well in the coming years.
More importantly, find out what REIT investors need to know to better manage the risk in their portfolios as interest rates potentially rise.
Are Higher Interest Rates Bad for REITs?
Interest rates have never been this low for this long in human history, making many of the academic studies about rising rates potentially less relevant.
The good news is that we have some real-time data to analyze on the impact of higher rates on REITs because yields are up sharply since last summer.
In fact, the 10-year Treasury yield has increased more than 120 basis points since the start of July 2016, nearly doubling to reach about 2.6% today.
While that might sound like a significantly higher yield, you can see that it actually remains very low compared to the 10-year Treasury yields recorded over the last 60 years:
Source: Federal Reserve Bank of St. Louis
The S&P 500 Index has returned over 14% since rates started rising last summer, but many high-yielding, low volatility dividend stocks have not been so fortunate.
The table below shows the total return from 6/30/16 through 3/15/17 for a number of popular high dividend ETFs and sectors.
You can see that each of these groups of dividend stocks trailed the market, and three actually lost money over this period, recording a negative total return.
REITs were the worst performing group, losing 6.5% to trail the S&P 500 by a whopping 20.9%!
Source: Simply Safe Dividends
There are two reasons why interest rates matter to REITs, and both have to do with the underlying business model of this high-yield industry.
REITs exist so that the companies that own the properties can avoid paying corporate taxes as long as they distribute 90% of taxable income as unqualified dividends.
This means that REITs aren't able to retain their earnings or adjusted funds from operations (AFFO – the REIT equivalent of free cash flow).
Thus, in order to grow, REITs need to raise external debt and equity capital from investors. As a result, higher interest rates increase a REIT's cost of debt and make it incrementally harder to achieve profitable growth.
That's especially true because REITs frequently use secondary offerings (i.e. they sell new shares) to raise growth capital.
Realty Income (O) has more than tripled its share count since 2005, for example:
Source: Simply Safe Dividends
Management has to make sure that any new properties it buys are still accretive to investors, meaning that the additional AFFO growth is enough to offset the dilution it took by issuing new shares to fund the property acquisitions.
In other words, AFFO per share needs to continue growing in order for the dividends to grow in a sustainable and secure manner.
However, when interest rates rise, bonds, including risk-free Treasury bonds, decline in value, causing their yield to rise.
REITs compete for new capital with bonds, as well as savings accounts, money market funds, and CDs.
Some investors who own REITs today might be inclined to sell their shares if rates rise because they can now achieve similar but less risky yields elsewhere.
To put it another way, because REITs are often seen as bond alternatives, higher interest rates could mean decreased demand for REIT shares, causing a REIT's yield to rise.
While that's great for dividend investors looking for new places to put money to work, it can also be a problem for the REIT's long-term growth prospects.
That's because the higher a REIT's valuation (i.e. share price), the less new shares it takes to raise growth capital.
In other words, the less dilution to existing investors is needed in order to continue growing a REIT's AFFO, and thus its dividend.
Think of it this way. Suppose a REIT currently yields 5%, and management is able to buy new properties at a capitalization rate (annual net income / purchase price) of 7%.
Even if the REIT has to raise 100% of the capital to buy a property by selling new shares, then AFFO per share will still increase, and so will the dividend.
And if the REIT buys the property with a 50/50 mix of equity and debt (with an interest rate of 4%), then the amount that AFFO per share increases is even more due to less dilution and an even lower weighted average cost of capital, or WACC.
However, if interest rates increased to 6% and a REIT's shares fell enough to raise the yield to 8%, then suddenly the ability to buy that property with 100% equity capital disappears.
The 8% yield a REIT would have to pay on its newly issued shares is more than the 7% capitalization rate it earns on its property, destroying shareholder value.
In other words, the REIT's cost of capital has risen high enough to not make the deal accretive.
REITs essentially have an optimal growth sweet spot, in terms of their yield. If shares are too expensive, then the yield is too low for investors to earn the income they need.
But if shares are too cheap for too long (due to higher interest rates), then the REIT gets cut off from growth capital and can't expand its property portfolio and dividend.
So with the Federal Reserve predicting that interest rates will rise by about 2.5% in the next few years, are REITs a bad investment idea?
Not necessarily. What it does mean, however, is that you need to stay diversified and be highly selective with which REITs you add to your portfolio.
The Best REITs Can Still Grow Despite Higher Interest Rates
It's important to note that REIT share prices aren't just affected by interest rates but can and do trade on other factors, including a REIT's fundamentals, long-term growth prospects, and dividend growth history.
As you can see, REITs have been positively and negatively correlated with interest rates during different periods of time since 2005, indicating that there are other factors influencing their returns.
Source: Hoya Capital
Like all other stocks, shares will periodically trade at large premiums and discounts to a REIT's intrinsic or fair value.
A quality management team will take advantage of these periods of overvaluation to raise more equity capital when the cost of equity is low (high share price), and then raise cheap debt capital when shares are undervalued (low share price).
This kind of smart capital management is why blue chip REITs, such as Realty Income, have a history of consistent growth throughout all kinds of interest rate and economic environments.
In fact, during the last period of rising interest rates, Realty Income was able to grow its cash flow per share by 8.1% per year compared to the median REIT's 4.4% annual growth.
Source: Realty Income Investor Presentation
While higher interest rates make it harder to grow profitably (due to higher costs of capital), higher rates also tend to depress real estate prices. Therefore, a quality management team can acquire new properties for lower prices and thus higher cap rates.
Realty Income is among the most beloved dividend growth stocks in the REIT sector because of its world class management team's consistent adaptability and consistent track record of steadily rising payouts. Its monthly dividend payout schedule doesn't hurt the stock's appeal either.
Essentially, a quality REIT (the only kind worth owning) is one that, like any dividend stock worth owning, can consistently grow no matter what the economy or interest rates are doing.
Not All REITs Are Equally Rate Sensitive
Of course, just because higher interest rates won't stop the best REITs from delivering sustainable and consistent dividend growth doesn't mean that all REITs are equally sensitive to interest rates.
For example, mortgage REITs, which invest in residential or commercial mortgage securities instead of physical, rent accruing properties, are extremely rate sensitive and thus far riskier than most equity REITs (those that own rental properties).
This is because the share price of mortgage REITs generally trades as a multiple of its net asset value (i.e. book value per share).
Since the value of a mortgage bond trades inversely to interest rates (higher rates cause mortgage bond values to decline), higher rates will mean that the NAV of a mortgage REIT will decline and often take the share price with it.
Of course, as with most things in finance, mortgage REIT investing isn't as simple as saying, "Don't own mortgage REITs if rates are rising."
After all, mortgage REITs make their money by borrowing at short-term (i.e. low) rates and then investing in longer-term (i.e. higher-yielding) investments.
If short-term rates rise slowly over time but longer-term rates rise quicker (i.e. the yield curve steepens), then a mortgage REIT's profitability will actually grow, cash flows will strengthen, and the dividend becomes more secure.
This will attract more investor capital, meaning a rising share price, which will further allow management to keep raising cheap enough equity capital to keep growing.
The best kinds of mortgage REITs to own in a rising rate environment are those that will actually benefit from rising rates.
Mortgage REITs that borrow at fixed rates but lend at mostly floating interest rates include commercial mortgage REITs such as Starwood Property Trust (STWD), Ladder Capital (LADR), Jernigan Capital (JCAP), and Ares Commercial Real Estate Corporation (ACRE).
These are all commercial mortgage REITs that could continue growing well in a rising interest rate environment. For example, you can see Starwood Property Trust's favorable cash flow sensitivity to changes in rates below.
Source: Starwood Property Trust Investor Presentation
Commercial mortgage REITs also use less leverage, meaning that their NAVs will decline less due to the decrease in their loan values compared to higher leveraged residential mortgage REITs, such as Annaly Capital Management (NLY).
Source: Annaly Capital Management Earnings Presentation
Since residential mortgage REITs (which invest mostly in fixed-rate residential mortgages) don't see their cash flow grow when rates rise, especially when short-term rates rise faster than long-term ones (net interest margin compression), a rising interest rate environment can create long periods of decreasing cash flow, dividends, and share prices (which makes profitable growth very difficult).
As a result, residential mortgage REITs are arguably the riskiest kind of REIT to own when rates are rising.
However, just because commercial mortgage REITs are less risky than residential mortgage REITs doesn't mean they aren't also higher risk than their equity REIT cousins.
After all, their cash flows are highly tied to the health of the overall economy and their customers being able to continue making their mortgage payments.
During recessions, commercial mortgage REITs can face higher default rates and thus also be forced to cut their dividends.
That's why most conservative dividend investors are generally better off avoiding mortgage REITs and sticking with high-quality equity REITs such as Realty Income, W.P. Carey (WPC), Public Storage (PSA), and Welltower (HCN).
Interest Rate Sensitivity of Equity REITS
Equity REITs are interest rate sensitive, but you need to keep in mind that not all REITs are created equal.
The REIT industry is incredibly diverse with many different kinds of business models.
The table below shows two important factors to consider. First, certain sectors such as triple net lease REITs (e.g. Realty Income) have very high interest rate sensitivity.
Triple net lease REITs have a high 1.3 interest rate beta. That means that for every 1% increase in interest rates (10-year Treasury yield), the yield on triple net yield REITs increases by 1.3%.
On the other hand, hotel REITs such as Pebblebrook Hotel Trust (PEB) have negative interest rate betas, meaning that they have historically gone up when rates fall.
Source: Hoya Capital
What explains this seemingly strange occurrence? The answer is the business model, or more specifically the underlying length of the contracts underpinning the cash flow and the current bond alternative nature of the REIT industry.
Now that REITs are their own official stock sector, the majority of REIT share prices is determined by institutional capital, mostly mutual funds.
Some of this institutional capital is treating REITs as a kind of bond alternative, and like with bonds, the interest rate sensitivity of the asset is based on its duration.
For example, a two-year Treasury will generally decline by about 2% for every 1% increase in interest rates, while a 30-year Treasury would decline by about 30%.
For REITs, the duration that institutional managers are looking at is the length of the contracts that underpin how often the REIT can raise rent prices.
For example, hotel REITs generally own their properties and obtain cash flow from customers' nightly stays.
Since hotel room prices change on a daily basis, there is very little inflation risk because room rates can be increased each day.
As a result, the hotel REIT interest rate sensitivity we saw above is signaling that this kind of REIT has low interest rate sensitivity because the duration is essentially 1 day.
On the other hand, triple net lease REITs generally sign very long-term rental contracts with tenants, typically between 10 and 20 years.
While these agreements include annual rental escalators to account for inflation, those are generally based on recent inflation rates. In other words, most triple net lease escalators are very low right now, about 1% to 2% a year.
Should inflation be higher than expected, say 3% to 4% over the length of the contract, then the inflation-adjusted value of the REITs cash flow could actually decrease over time.
Essentially, you can think of the weighted average duration of a REIT's rental contracts as the duration of this bond alternative. REITs with longer durations and less flexibility to adjust the cash flow rates they receive from tenants are more sensitive to interest rates.
However, it's also important to note that, as I explained earlier, REIT share prices aren't entirely based on interest rates.
After all, while the last decade has seen many investors treat REITs as bond alternatives, there is still a big difference between risk-free assets (e.g. Treasury bonds) and equity REITs.
All equities are risky in the sense that the dividends aren't guaranteed.
If a REIT runs into trouble, say through taking on too much debt right before a recession hits, then it can be forced to cut its dividend during an economic downturn, which happened with many REITs during the 2008-2009 financial crisis.
That explains why the beta of different REIT sectors to the S&P 500 is often the inverse of its interest rate beta.
In other words, while triple net lease REITs are the most interest rate sensitive (in terms of share price and dividend yield), they are also the least volatile REITs you can own.
In fact, triple net lease REITs are generally 60% less volatile than the S&P 500 and 50% less volatile than REITs in general (which as an industry are 40% less volatile than the market at large).
Why is this? Because the very duration of contracted cash flow that affects the REIT's "duration" also affects its cash flow, and thus dividend security.
For example, a hotel REIT may have very little interest rate sensitivity because it has a duration of just 1 day.
But that also means that hotel REITs have very little cash flow predictability because their AFFO is at the mercy of daily hotel customers.
As a result, their AFFO is the most volatile, and they must maintain lower AFFO payout ratios at the expense of long-term dividend growth.
If a hotel REIT were to grow its dividend too quickly, then the moment the next recession hits and hotel traffic falls, its payout will quickly become unsustainable and require a dividend cut.
This higher dividend risk (and slower dividend growth) explains why hotel REITs are the most cyclical and volatile sector of the industry.
On the other hand, triple net lease REITs, because their rental agreements can last for 20 years, have very steady and predictable cash flow that allows them to generate very consistent and safe dividend growth, often even during recessions (assuming their tenants can still make their payments).
This kind of REIT often attracts more conservative income investors who depend on dividends to fund their retirement.
These shareholders value the cash flow and dividend security above all else. As long as a REIT's dividend remains safe, they are unlikely to sell even if interest rates increase.
After all, because a quality REIT will steadily raise its dividend over time, the yield on cost will also rise over time.
Shareholders who bought Realty Income shares back when it went public in 1994 are currently getting paid 30.4% of their original investment each year, for example.
Even adjusting for inflation those shares are still paying an 18.7% yield on cost.
Think of it like this. If you were an investor primarily focused on dividend safety and income to live off during retirement, would you sell a blue chip corporate bond that paid 18.7% and was steadily raising its payout each year faster than inflation just because interest rates increased and the share price declined?
Of course not, because as long as the dividend is secure and growing you are unlikely to have a good reason to sell those shares.
How to Invest in REITs in a Rising Interest Rate Environment
While understanding how and why interest rates affect REIT share prices is helpful, at the end of the day REIT investors really want know how they should position their portfolios in the coming years. Should we make any important changes?
Fortunately, for investors with diversified portfolios, the answer is a very simple and adamant "no."
Market timing, or jumping in and out of stocks to try to take advantage of or avoid certain situations, has been proven to be the absolute worst thing long-term investors can do.
For example, suppose over the last 90 years you had jumped in and out of the market and missed just the top 10 days of each decade (out of about 17,200 trading days).
Instead of earning 10,055% (investing in the S&P 500), your total returns would have been just 38%!
In other words, market timing is the best way to ensure underperformance and can completely eliminate the wealth compounding power of investing.
1) Know yourself, your personality, time horizon, goals, and risk tolerance.
2) Make a well thought out personalized investing plan that meets your needs.
3) Stick to this plan, never investing based on emotions (i.e. flying by the seat of your pants). Failing to plan your investments is the same as planning to fail at investing.
4) Do your research. Never buy a REIT until you've checked its long-term dividend track record, including its AFFO payout ratio history. You want to make sure that it's stable over time and 85% or less (depending on the industry). Also check the balance sheet to make sure that a REIT's debt levels are safe and that management isn't likely to be forced to cut the payout during a recession (things like the leverage ratio, interest coverage ratio, current ratio, and credit rating)
5) Stick to your plan no matter what. Buy and hold as long as the investment thesis holds (i.e. the dividend is secure and the business is growing).
6) Add on dips (assuming you have new money coming in).
7) Reinvest the dividends if you can. Dividend Reinvestment Plans (DRIPs) are a potentially great way to automate this process.
Follow this simple plan and you will be well on your way to reaching your financial goals, whatever kind of dividend growth stocks you invest in.
Higher Interest Rates Present Challenges and Opportunities for REIT Investing
While rising interest rates certainly pose a challenge to some REITs, long-term investors with properly diversified dividend portfolios need not fear.
After all, the best quality REITs are led by experienced management teams with plenty of experience growing shareholder value in any kind of interest rate and economic environment.
The key to successful REIT investing is the same as with all dividend growth stocks. Do your research, buy high-quality names at reasonable prices, plan on holding them for the long term, add on dips, and reinvest the dividends.
In the meantime, take advantage of the market's short to medium-term freak-outs over rising rates to accumulate reasonably priced shares of the best REITs, locking in higher, steadily-growing yields.
While rising interest rates have caused REIT stocks to meaningfully underperform the market since last summer, it's also important to remember that today's higher rates are signaling investors' expectations for stronger economic growth in the future.
Increased corporate spending, a tightening labor market, and greater economic activity translate into stronger occupancy rates, healthy rent growth, and overall stronger fundamentals for most REITs.
At the end of the day, executing a simple investment process, remaining well diversified, and staying the course are the best things a REIT investor can do whether interest rates rise or fall from here.
I plan to continue holding the quality REITs we own in our Conservative Retirees dividend portfolio and will do my best to ignore the interest rate noise that will likely continue making news headlines.
Interest rates are going up. Although the Federal Reserve did not hike rates at their meeting last week, the indication is that rates (as previously forecast) will be increased three times this year.
The confirmation of rising interest rates, plus the report that job growth and wages had grown significantly in January (2.9% and 200,000 jobs, respectively) spooked the markets, taking the Dow Jones Industrial Index down by almost 666 points.
And as I write this, futures are down nearly 300 points for Monday's open. I know that's scary, but we have had such a good run that somewhat of a market correction is not a surprise. I don't have a crystal ball, so I don't know if this is just a blip in the overall bullish trend, but most economists are predicting continued economic growth, which means higher corporate earnings. And since earnings drive the markets, it makes sense that markets will continue to trend up, but most likely will be more volatile this year.
Top Dividend Stocks From Wall Street's Best Minds
Beat the market with the best dividend stocks that will not only bring your portfolio double and triple-digit winners, but also provide a decent dividend to increase your overall returns.
The best part is that you can get all the best picks without having to subscribe to dozens of individual advisories and get it FREE for 14 days!
Don't wait. Start doubling your investment income AND earning a substantial yield on your investments.
As rates rise, you may consider a realignment in our portfolio, to take advantage of stocks that tend to do well during those periods. That includes financials, who see margin expansion as rates rise, as well as consumer discretionary stocks, including automobile, retail (not necessarily the brick-and-mortar stores), restaurants and luxury goods.
But one sector that shouldn't be discounted—but often is due to misinformation—is Real Estate Investment Trusts (REITs). Many investment pros sound the alarm on REITs in rising interest rate conditions, making investors fear not only the loss of generous dividends, but also potential stock collapses. That misconception is far from the truth.
REITs and Rising Interest Rates
Why? It's based on the assumption that as rates rise, REIT profits will erode, and stock prices will decline. In theory, that looks right, as generally, when rates rise in a fixed income instrument like a bond, prices generally fall. And with mortgage REITs, that's usually true. They are leveraged to the hilt, so rising interest rates will usually negatively impact their prices. But for equity REITs, that notion doesn't prove out.
The following graph was recently published in Forbes and shows a more complex picture. It plots monthly data over the past 10 years between 10-year U.S. Treasury Futures and the MSCI US REIT Index (RMZ) and indicates that while there is some correlation between rate hikes and REIT price declines, the most significant correlation is when rates suffer a sharp hike. In contrast, with gradual rate increases, the correlation declined. That's because gradually rising interest rates indicate an improving economy, and for REITs, that can mean rising rents and lower vacancy rates, which leads to more profits, and better stock prices.
For the investor, however, when rates begin to rise, REIT investors tend to panic, and that may cause REIT prices to temporarily slide—a buying opportunity, in my opinion.
So, the question is, which REIT categories will likely do just fine amid rising interest rates?
I mentioned mortgage REITs a moment ago, and for the most part, they are not the investments to hold during rate increases. However, the same cannot be said for commercial mortgage REITs. That's because they tend to borrow at fixed interest rates and lend at variable rates, so their borrowing costs remain fixed, but the lending income rises as rates go up. One to consider: Ladder Capital (LADR), which has a current dividend yield of 8.7%, and is rated 'Buy' in consensus analyst forecasts. One caveat, however, is that investors should be aware that rising rates can increase default rates which can lead to dividend cuts. Consequently, it will benefit you to keep a close eye on any commercial mortgage REIT that you own.
The charts below show REIT beta (measure of volatility) to the S&P 500, as well as to yields.
You can see that hotel REITs are the most volatile as compared to the S&P 500, which makes sense, as they are also very economically-dependent, but the least volatile when it comes to yield, and that's because their cash flow is short-term. As long as the economy continues to improve, hotel REITs should also, as consumer discretionary buying rises. RLJ Lodging Trust (RLJ), with a yield of 4.28%, and a consensus rating of 'Buy' may be an interesting choice.
This REIT was recently recommended in my Wall Street's Best Dividend Stocks by contributor Gray Cardiff, editor of Sound Advice. Here's what Gray had to say about the REIT: "The company is on a mission to upgrade its assets by purchasing properties in high growth markets with barriers to entry while seizing opportunities to sell at high prices. Based on the latest trailing four quarters' financials reported, and using a 7.5% cap rate to evaluate the company's portfolio, we value RLJ at $43.16 per share, which is considerably higher than the current price. The high dividend yield is attractive and lowers the risk profile."
Alternatively, Net Lease REITs show the most volatility to yields, which also seems right, as their long-term contracts—while inflation-adjusted—may not keep up with quick rate rises, but they are the least volatile, compared to the S&P, because they have long-term steady cash flow. But these REITs have been known for dividend safety, good steady income, with decent rates, so gradual rate increases shouldn't bother them too much. Warren Buffett sure thinks so, and earlier this year, purchased a 9.8% stake in STORE Capital (STOR), which yields 5.19%, and carries an analyst ranking of 'Buy'.
So, it's obvious your investing decision in REITs is not just a function of beta. It's a bit more involved. While rates and economic factors are important, investors must also pay attention to the fundamentals. That means, a bit of research, including:
Funds from operations (FFO): compare four quarters of FFO to the REIT's annual dividend payments. That is the dividend coverage ratio, which should be more than 1:1, meaning the REIT is earning more than it pays out in dividends.
Dividend track record—is it stable? Has the dividend been cut?
Review the portfolio, including the vacancy rate history, credit ratings of its holdings, and diversification.
Valuation of REITs is every bit as important as with any other stock. It's best not to overpay; that way, you get the benefit of appreciation plus a handsome and steady cash flow.
If your REIT idea meets most of these criteria, exhibiting fundamental strength and value, then this may be an opportune time to add some steady cash flow to your portfolio.
For additional REITs investing ideas, check out Wall Street's Best Dividend Stocks. For a limited time, you can try the Digest free for 14 days.
Get 200 Advisories for the Price of One
Nancy Zambell, Editor of Wall Street's Best Investments, has spent 30 years helping investors navigate the minefields of the financial industry. Nancy scours more than 200 advisories and research reports to select the top recommendations, which she collects for you in this easy-to-read digest.
Free Report: Enjoy a Comfortable Retirement
Earning a steady stream of income from your investments is a good way to build wealth and save for retirement.
You must be logged in to post a comment.
Honor the Signal of the Market | Cabot Weekly Review
Cabot's Ten Best Marijuana Stocks

As marijuana becomes increasingly legal in both the U.S. and Canada, it makes sense for growth-oriented investors to pay attention to marijuana stocks. The opportunities are much bigger than most investors realize!!

Learn MoreBuy Now
Cabot Prime Membership
We designed Cabot Prime for dedicated investors like you—investors who want to own the best stocks, collect the biggest profits, and lock in a rising source of income for life. With Prime membership, you get full access to nine of our top advisories and many members-only benefits, including free admission to our annual Investors Summit.

Learn MoreBuy Now
Cabot Prime Pro Membership
Cabot Prime Pro membership is by invitation only. Please click the button below if you wish to receive an invitation when a space becomes available.

Learn MoreRequest Invitation
Cabot Growth Investor
This flagship investment advisory has been published since 1970 and it is recommended for all investors seeking to grow their wealth. You'll receive invaluable investing lessons, so that you won't just become a more successful investor—you'll become a wiser investor!

Learn MoreBuy Now
Cabot Dividend Investor
Cabot Dividend Investor focuses on preparing for retirement, recommending a solid range of income-generating stocks, preferred stocks, REITs, MLPs, closed end funds and utilities, with particular emphasis on risk, dividend safety and dividend growth. If you're retired or thinking about retirement, this advisory is designed for you. Cabot Dividend Investor's proprietary Individual Retirement Income System (IRIS) will help you allocate your assets for capital appreciation, current income, growth and future income investments according to your retirement goals.

Learn MoreBuy Now
Cabot Emerging Markets Investor
Cabot Emerging Markets Investor focuses on the emerging markets economies, with special attention paid to the BRIC (Brazil, Russia, India and China) investment landscape. You'll discover the value of international diversification and the profit potential of investing in countries whose economies are growing far faster than that of the U.S. All these stocks are traded on U.S. exchanges, usually as American Depositary Receipts. Under the guidance of Chief Analyst Paul Goodwin, Cabot Emerging Markets Investor was recognized as the top investment newsletter in 2006 and 2007 by Hulbert Financial Digest, and was rated by Hulbert as one of the top investment newsletters in every five-year period 2004 to 2011.

Learn MoreBuy Now
Cabot Options Trader
Cabot Options Trader's Chief Analyst and options expert Jacob Mintz uses calls, puts and covered calls to guide investors to quick profits while always controlling risk. Beginners and experts alike can benefit from following Jacob's advice. Whenever Jacob determines the time is right, he sends specific option buy and sell alerts via email and text-message for immediate action. He also sends out a weekly update with his views on the options market, open option positions and his outlook for the coming week.

Learn MoreBuy Now
Cabot Options Trader Pro
Cabot Options Trader Pro's Chief Analyst and options expert Jacob Mintz uses the full spectrum of option strategies to recommend the option that best suits the trade opportunity—calls, puts, spreads, straddles, iron condors and more—while always controlling risk. Whenever Jacob determines the time is right, he sends specific option buy and sell alerts via email and text-message for immediate action. He also sends out a weekly update with his views on the options market, open option positions and his outlook for the coming week.

Learn MoreBuy Now
Cabot Small-Cap Confidential
Cabot Small-Cap Confidential is a limited-circulation advisory for investors seeking profit opportunities in high-potential small company stocks. Each month, small-cap expert and Chief Analyst Tyler Laundon features in-depth research on one outstanding small-company stock that is a pioneer in its field and undiscovered by institutional analysts. Updates on all recommended stocks are sent weekly. The circulation of Cabot Small-Cap Confidential is strictly limited because the stocks recommended are often low-priced and thinly traded. In the publication's first five years, spanning 2007-2012, the average stock recommendation gained 30.5%.

Learn MoreBuy Now
Cabot Stock of the Week
Cabot Stock of the Week offers the very best of all Cabot stocks across the investing spectrum. Each stock is personally selected by Cabot's President and most Senior Analyst Timothy Lutts, and guided by the collective wisdom of all the Cabot expert analysts. As a subscriber of Cabot Stock of the Week, you'll build your wealth and reduce your risk with the single best stock each week for current market conditions among growth, momentum, emerging markets, value, dividend and small-cap stocks.

Learn MoreBuy Now
Cabot Top Ten Trader
Designed for experienced investors, Cabot Top Ten Trader is your ticket to fast profits in stocks that are under accumulation now. Every Monday you'll receive a one-page profile of each recommended stock, including fundamental analysis, technical analysis and buy ranges. Plus. each Friday, Chief Analyst Michael Cintolo will give you an update titled "Movers & Shakers," so you'll always know his latest thoughts on these fast-moving stocks. Cabot Top Ten Trader is your best source of advice on investing in the market's hottest stocks.

Learn MoreBuy Now
Cabot Undervalued Stocks Advisor
Yes, you can have Growth AND Value! Combining both growth and value in her growth-at-a-reasonable price strategy, Chief Analyst Crista Huff uncovers stocks with strong growth catalysts that are selling at attractive valuations—the stocks that are temporarily overlooked by mainstream analysts and institutions. Crista applies her stringent screens to deliver the best stocks in three portfolios: Growth, Growth & Income, and Buy Low Opportunities. A subscription includes monthly issues with weekly updates, special bulletins with market and stock alerts and email access to Crista.

Learn MoreBuy Now
Wall Street's Best Dividend Stocks
Wall Street's Best Dividend Stocks presents the best income investments from the top Wall Street analysts, researchers and advisors. Editor Nancy Zambell scours more than 200 advisories and research reports to select the top recommendations. Dividend recommendations include high yield, growth and income, REITs, mutual funds, ETFs and more. One Spotlight Stock is featured each month, along with Nancy's insight on the market and updates on past recommendations. One top recommendation arrives in your email box each morning, and then gets collected into an easy-to-read digest of 30 to 35 top recommendations each month.

Learn MoreBuy Now
Wall Street's Best Investments
Editor Nancy Zambell scours more than 200 advisories and research reports to select the top recommendations by the top analysts. Selections run the full range of opportunities: growth stocks, value stocks, technology, small-caps, biotech, pharmaceuticals, mutual funds, ETFs and more. One Spotlight Stock is featured each month, along with Nancy's insight on the market and updates on past recommendations. Thirty-plus recommendations are delivered to you in Daily Alerts directly to your email box, and collected in an easy to read digest each month.

-K. Hudson, Frankfort, Kentucky

Looking at the overall market, the intermediate-term trend continues to point mostly down; even after yesterday's solid rally, all five of the major indexes we track are below both their 25-day and 50-day moving averages. As we've written in recent weeks, if you want to argue that the trend of some indexes is sideways instead of down (like the S&P 600 SmallCap, which is just 4% off its highs), you could. But it's clear the buyers aren't in control at the very least. On a positive note, the broad market is showing some rays of light. Many breadth measures (number of stocks hitting new lows, advance-decline lines, etc.) have shown positive divergences as some indexes (like the S&P 500 and NYSE Composite) have retested their February lows.